By Ron Rodman
The death of Annette Funicello this month set off a wave of nostalgia among baby boomers who remember her as the star of the "Mouseketeers" of the original
Mickey Mouse Club
(
MMC
).
MMC
was the brainchild of
Walt Disney
, studio founder, entertainer, and entrepreneur, originally as a means of promoting the then new Disneyland, which opened in Anaheim, California on 17 July 1955.
The MMC premiered on 3 October 1955 on the ABC television network to coincide with the opening of Disneyland. MMC was Disney's second venture in network television, the first being an anthology series, the short-lived Disneyland that later became Walt Disney's Wonderful World of Color.
MMC was essentially a variety show for children, complete with a newsreel, a cartoon, a serial, musical numbers performed by the Mouseketeers, and talent and comedy segments. The show aired five days a week in the afternoons and each day of the week had a different theme:
Monday: Fun with Music.
Tuesday: Guest Star.
Wednesday: Anything Can Happen.
Thursday: Circus.
Friday: Talent Round-up.

One unique feature of the show was the Mouseketeer Roll Call, in which many (but not all) of that day's line-up of regular performers would introduce themselves rhythmically by name to the television audience. In the serials, teens faced challenges in everyday situations, often overcome by their common sense or through recourse to the advice of respected elders.
Cast

Originally, Disney wanted "ordinary" kids on the show, but his idea was abandoned as the audition process began for the show in March 1955. Thirty-nine children were hired to become "Mouseketeers," with nine becoming the "Red Team" which consisted of Funicello, Tommy Cole, Darlene Gillespie, Bobby Burgess, Doreen Tracey, Cubby O'Brien, Karen Pendleton, Lonnie Burr, and Sharon Baird. Cheryl Holdridge joined the team during the second season.
MMC was hosted by Jimmie Dodd, a songwriter and the "Head Mouseketeer", who provided leadership both on and off screen. In addition to his other contributions, he often provided short segments encouraging young viewers to make the right moral choices. These little homilies became known as "Doddisms".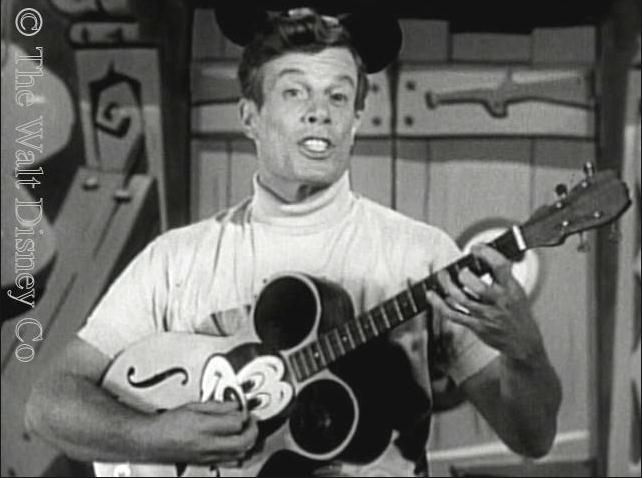 Dodd composed and performed much of the music for the show, including the "Mickey Mouse March" that opened the show, as well as the slow "alma mater" version that closed each episode.

Roy Williams, a staff artist at Disney, also appeared in the show as the "Big Mouseketeer". It was Williams who suggested that all characters on the show wear the Mickey Mouse ears ("Mouseke-ears"), which he helped create.
Annette Funicello

The "Mouseketeers" performed in a variety of musical and dance numbers on the show as well as some informational segments, but it was Annette Funicello who was Walt Disney's favorite. Born on 22 October 1942 in Utica, New York, the family had moved to California when she was still young. Disney himself saw her performing the lead role in "Swan Lake" at her ballet school's year-end recital in Burbank and decided to have her audition along with two hundred other children. Annette became the last Mouseketeer of the twenty-four that was picked.

Annette was the only Mouseketeer that Disney kept under exclusive contract. He personally managed aspects of her career, and created one of the show's serials especially for her, a serial called "Annette." Disney had plans for a film career for her and fashioned the serial to see if she was ready for film. The other popular serials on MMC, such as "The Adventures of Spin and Marty," "Adventure in Dairyland," and the "Hardy Boys Mysteries," gave way to "Annette" which aired during the third season of the MMC and was the last serial broadcast on the show.

Through Disney's supervision, Annette appeared on other TV shows, notably, Danny Thomas' Make Room for Daddy in 1958. Disney also featured her in several of his own productions like the TV series Zorro, and the films The Shaggy Dog and Babes in Toyland.
In the 1960s, Funicello went on to co-star with Frankie Avalon in many Bikini Beach movies through the American International studios. Disney gave his permission for her to appear in these movies as long as she wore a bathing suit that didn't show her navel. She also made some popular records, notably the hit "Tall Paul" in 1959.

In the 1980s, she became the celebrity spokesperson for Skippy Peanut Butter, appearing on many TV commercials.

A MMC "Reunion Special" aired on NBC in 1980:

The original MMC aired from 1955 until it was cancelled in 1959. Other versions of the show aired later, like The New Mickey Mouse Club (1977-79), The All New Mickey Mouse Club (1989-1996) and Mickey Mouse Clubhouse (2006 and current).
Dodd died in 1964 of cancer in Hawaii. Funicello died on 8 April 2013 after a long battle with multiple sclerosis.
Now it's time to say goodbye….
Why? Because we LIKE YOU!
Ron Rodman is Dye Family Professor of Music at Carleton College in Northfield, Minnesota. He is the author of Tuning In: American Television Music, published by Oxford University Press in 2010. Read his previous blog posts on music and television.
Subscribe to the OUPblog via email or RSS.
Subscribe to only music articles on the OUPblog via email or RSS.
Image Credit: Photographs provided by author.