Posted on Tuesday, July 26th, 2011 at 11:30 am
Tweet

Even today, Truman Capote remains one of America's most controversial authors. Following early literary success, his flamboyant lifestyle was well-documented. When criticized about his behavior at the many parties and restaurants he frequented, he often responded that he was researching his next book. Capote was a social celebrity, to be sure, and may have had just as many strong opinions about other people, as they had about him.
In the quiz below, you'll find a series of quotes from Truman Capote (left). Try your luck at pairing them up with the people listed (right). Answers at the bottom.
View more about this book on the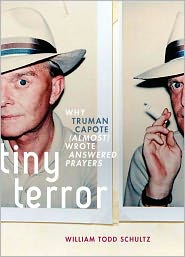 Answers:
1. – e | 2. – j | 3. – c | 4. – f | 5. – a | 6. – h | 7. – g | 8. – d | 9. – b | 10. – i