'Tis the season for gift guides and round-ups, so our US Publicity team took a quick break from pitching the OUP front list to reflect on their year in reading…
Christian Purdy, Director of Publicity:
When I saw the jacket art on American Psychosis earlier this year I was reminded of one of my favorite contemporary photographers, Christopher Payne, and his collection of photos of dilapidated and decaying asylums here in the US published by MIT back in 2009. It still makes a great gift for that hard to buy for person on your list. Asylum: Inside the Closed World of State Mental Hospitals by Christopher Payne.
Tara Kennedy, Senior Publicity Manager:
"I bought Anatomy of a Disappearance by Hisham Matar, along with some others, intending to read it over my vacation. It ended up sitting in my still-to-be-read pile for a while but I fell in love with it as soon as I started it. It made me sad, curious, anxious and captivated all at once. As soon as I finished it, I bought In the Country of Men. That one now sits in my still-to-be-read pile because I'm saving it for just the right moment."
Alana Podolsky, Associate Publicist:
"I'm ashamed I let Rohinton Mistry's A Fine Balance taunt me from my bedside table for years. In a Tolstoyian feat, Mistry weaves together the lives of four individuals, all dealing with some form of grief and exile, and the hundreds of moments that stay with them over a lifetime. I'm in awe of his quiet and nuanced ability to tackle hardships and celebrate the power of the human spirit and relationships."
Jonathan Kroberger, Publicist:
"I can't think of a better way to judge a book than by how many times you miss your subway stop while reading it. All of these books made me late for work this year (sorry Purdy): George Saunder's CivilWarLand in Bad Decline stands out for its perfect weirdness, James Baldwin's Giovanni's Room for its heartbreaking account of doomed love, and Virginia Woolf's To the Lighthouse for its existential punch in the gut. Bonus pick: I got some weird looks on the subway reading Life's Vital Link: The Astonishing Role of the Placenta, which is genuinely fascinating."
Jeremy Wang-Iverson, Senior Publicist:
"I'll mention a new book, an old book, and an OUP book. I recently checked out the e-book for The Lowland by Jhumpa Lahiri from my library and enjoyed it very much. I feel very grateful to have come of age as a reader as she did as a writer and while short stories might be what she's best at, this is a very good novel. And during the fall I read Daniel Deronda by George Eliot as part of a book club at Community Bookstore in Park Slope. This is a very moving novel about understanding and accepting what one person is able to offer another, when undying love just isn't in the cards. At the beginning of the year I worked on Louis Michael Seidman's On Constitutional Disobedience, and his provocative argument in this short book — that we must rethink the role of the Constitution — touches on many aspects of our dysfunctional modern government."
Lauren Hill, Associate Events Manager:
"Maybe I shouldn't admit this, but I'm reading The Silmarillion, J.R.R. Tolkien (edited by Christopher Tolkien) for the second time, and only on this re-read is it hitting me just how amazing this book is. Tolkien's mythos is simply astounding in its depth and breadth, and you don't get a true sense of just how deep the mythology goes from The Lord of the Rings or The Hobbit. The Silmarillion is, in essence, the history of the creation of Middle-Earth as seen through the eyes of the Elves, and it's filled to the brim with magnificent names and languages and places and heroes. In its finest moments, it's easy to see why just about every fantasy series that's been written since has its roots in Tolkien."
Sarah Hansen, Publicity Assistant:
"(1) Loving Frank, by Nancy Horan tells the story of Mamah Borthwick, the lesser known yet infamous mistress of Frank Lloyd Wright. It employs a fictional auto-biographical voice as it traces Mamah's story from her unhappy marriage to her love affair and subsequent world travels with Frank Lloyd Wright. Throughout the story, the book acts as a social statement about a woman's right to choose love over in early 20th century society, as well as provide historical context for FLW's Oak Park architecture. (2) The Rosie Project, by Graeme Simson is about the seemingly impossible love between a university professor with asberger syndrome and his wild child crush. Don Tillman, a geneticist who spends most of his time teaching, decides that finding a lifelong mate is easier through a questionnaire rather than the often chaotic process of dating. The questionnaire is designed to weed out all applicants with traits that Don finds 'unbearable'. Much of the plot and comic relief in the book comes from Don falling in love with a smoking bar tender with spiky red hair who challenges all of his preconceptions of the 'perfect' mate. A fun and light read."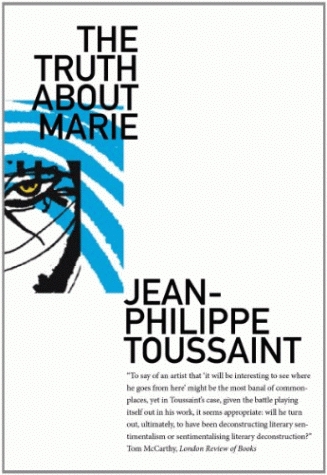 Owen Keiter, Associate Publicist:
"The Truth about Marie is a kind of tryptich: three short, cinematic scenes — an escaped horse on an airfield; a medical emergency in the night; a wildfire on Elba — disconnected in time but together telling the story of a broken romance. Gorgeously done stuff, as is usually the case with Toussaint (see also: Running Away, Reticence, Monsieur, etc). The combination of extremely European humor and bittersweet beauty feels sort of like a Fellini film."
Stay tuned for more best of 2013 blog posts…