By Kristian Hibberd

Donald Rumsfeld has rather soured the notion of discovering things of which we were previously unaware. If you don't recall the quote, it's worth reminding yourself:
Rumsfeld may have been eager to find his 'unknown unknowns', but ultimately his sought-after objects weren't good ones. Yet there are very many wonderful things, as yet outside of one's world view, whose discovery may change the way we think about this or that – a great novel, the landscape of a country seen for the first time, or a new musical repertoire.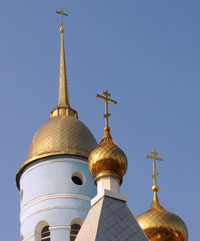 And this is where I am rather jealous of the future readers and performers of the new OUP choral collection Russian Sacred Music for Choirs. I already know the music in this collection and will therefore not experience again the wonder of getting to know this repertoire for the first time.
I first met its editor Noëlle Mann in the late 1990s as I began my PhD at the University of London. During the course of my studies, I had met (and often had the privilege of being taught by) some incredibly gifted, dedicated musicians and academics. Noëlle was all of that but what struck me most profoundly was the irresistible drive and boundless energy she applied to any venture to which she committed herself. For any sphere in which Noëlle worked, there were no casual observers; the irresistible and happy vortex Noëlle created left nobody watching dispassionately from the wings. You simply got involved.
It just so happens that the Russian choral repertoire was Noëlle's longest-standing preoccupations and prolific vortices. Her love of this repertoire led her to found the Kalina Choir, the first UK choir exclusively dedicated to performing this repertoire, and teach this music (in performance and practice) to generations of university students. In her edited collection, Noëlle's vision was to offer to English-speaking choirmasters and their choirs a glimpse into a world of choral music almost unknown outside Russia.
Noëlle sadly died in 2010 before the anthology was completed. Anyone who came to know Noëlle and her work — whether on Russian sacred chant and choral music, or the life and work of Prokofiev — will very quickly have understood that, for her, music was fundamentally and inescapably human and performative. This collection bears witness to that and is the product of many years of directing performances of this repertoire. Every concert of Noëlle's I attended invariably closed with a setting of 'Many years' (Mnogaya leta), a celebratory hymn wishing the person(s) to whom it is sung a long and peaceful life. By the same token, I wish all who discover this incredible repertoire many years of enjoyment and musical fulfilment.
[audioboo url="http://audioboo.fm/boos/1608142-mnogaya-leta-bortniansky"]
Kristian Hibberd is a musicologist and son-in-law of the late Noëlle Mann. Before her death in 2010, Noëlle tasked Kristian and her daughter, Julia Hibberd, with the completion of the anthology: Russian Sacred Music for Choirs.
Noëlle Mann was born in 1946 in south-west France and died in London in 2010. Having trained first as a concert pianist, Noëlle moved to the UK and read music at Goldsmiths College (University of London), during which she began researching the znamenny chant of the Russian Orthodox Church. Noëlle's interest in the Russian choral tradition led her in 1993 to establish the Kalina Choir, the first UK choir exclusively dedicated to performing Russian choral music. Through this and subsequent choral directing, Noëlle developed her research and performance practice of this music. As a musicologist, Noëlle's interests embraced both Russian choral music and the life and work of Serge Prokofiev. Noëlle became the Founding Curator of the Prokofiev Archive in 1994 and established the academic Centre for Russian Music at Goldsmiths College in 1997. In 2001, Noëlle founded and became Editor of Three Oranges, an academic journal dedicated to the study of the life and times of Prokofiev. She is the editor of Russian Sacred Music for Choirs. Oxford Sheet Music is distributed in the USA by Peters Edition.
Subscribe to the OUPblog via email or RSS.
Subscribe to only music articles on the OUPblog via email or RSS.