Posted on Friday, February 3rd, 2012 at 3:30 am
Hawk-eyed OUPblog readers may have noticed a few changes recently and it's high time we came out with them. May I present UK blog editor Nicola Burton, who joined the UK publicity team at Oxford University Press in August 2011. In addition to her work on OUPblog, Nicola is the publicist for Dictionaries and OUP's language reference, music and religion trade titles. She also tweets @OUPAcademic, @OED, and @OxfordWords. In previous years, Nicola could be found working in technology PR, drinking in East London pubs, and globetrotting with an overly large pink backpack. She is now mostly to be found in charity shops satisfying her button-buying habit. And now on to our Q&A… –Alice
What's your favourite word?
This changes regularly, but at the moment I'm a fan of abbreviating words à la The Only Way Is Essex. For instance, "Don't be ridic, I'm well jel! That party was totes amaze." There's a great blog post on Sentence First about this phenomenon.
What is your favourite fiction book?
It'd be impossible to pick one for all time, so instead I'll share my favourite fiction read of 2011: Rebecca by Daphne Du Maurier. I was fascinated by the destructive propensity of the narrator's psyche: she perpetuates a self-constructed ideal with which she compares and berates herself.
What weird things do you have in your desk drawer right now?
Some steel wool, artist's fixative spray, and a stack of Oxford World's Classics' Kamasutra postcards . Do I need to expand further?
Name three acceptable bribes that potential guest bloggers could send you.
Buttons, pearls, and Hendrick's gin are incredibly acceptable forms of bribery.
What's your favorite animal?
The ladybird [Ed: known as a "ladybug" to Americans]. They have a propitious habit of unexpectedly rocking up when I'm feeling undecided or generally woebegone, so I've become convinced they are my lucky talismans.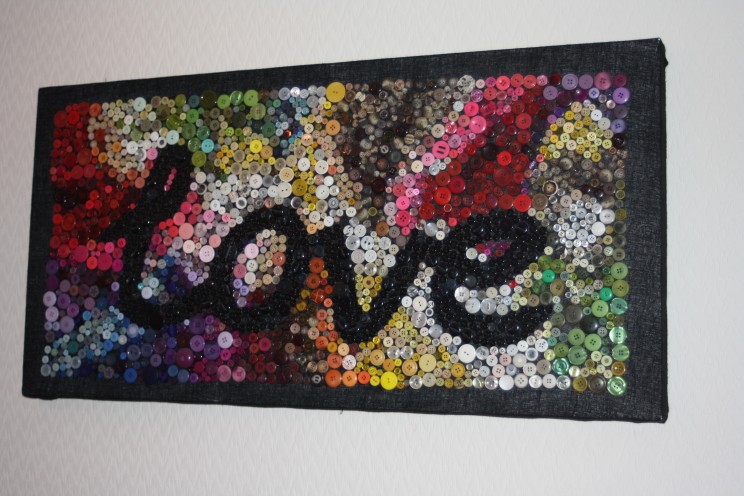 What's your most obscure talent/hobby?
Something I can only describe as 'button art' – using mixed vintage and modern buttons to create mosaics and decorate accessories. Here's one I made earlier…
What's the longest book you've ever read?
Without researching word counts, I guess it would either be A Suitable Boy by Vikram Seth, or Clarissa by Samuel Richardson. Both effortlessly seduced me through to their last pages.
Fill in the blank: I'm chuffed to be the OUPblog editor because it is _________
…Without a doubt the best academic blog EVER: brimming over with insightful content I actually enjoy reading, and offering me the inspiring privilege of working with so many wonderful authors and academics worldwide.