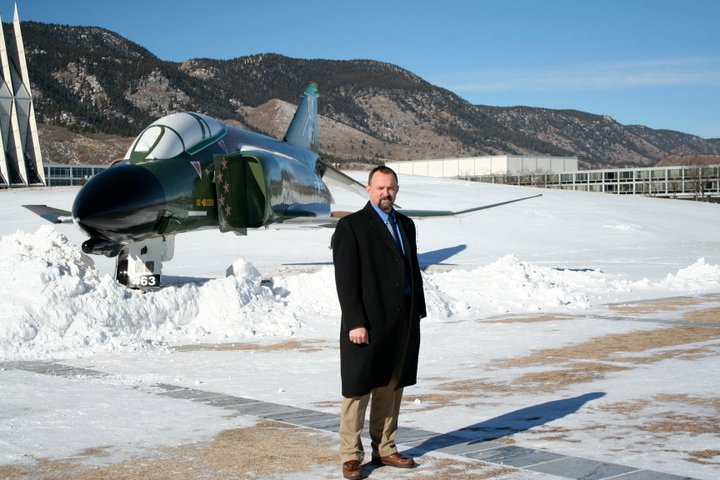 By Caitlin Tyler-Richards

In celebration of Veterans Day, we're pleased to share a conversation between Oral History Review managing editor Troy Reeves and Dr. Robert P. Wettemann Jr., director of the US Air Force Academy Center for Oral History. A historian at heart, Wettemann shares his thoughts on the importance of preserving veterans' stories, using oral history to get the insider's perspective, and turning history into a "usable past." He discusses the Center's on-going project to document the Air Force Academy's role in the 2012 & 2013 Colorado Springs, CO wildfires, and previous work done to collect experiences from September 11th. Enjoy!
Or listen to the podcast on the Oral History Review Soundcloud page.
Dr. Robert P. Wettemann Jr. received his PhD in History from Texas A & M. Upon graduation, he taught American history at McMurry University, and helped launch their Public History Program. In 2007, Wettemann went to the U.S. Air Force Academy as a visiting Associate Professor in History, and in 2009 they invited him back to revitalize their defunct oral history program. Wettemann now serves as director at the U.S. Air Force Academy Center for Oral History. He is also the author of Privilege vs. Equality: Civil Military Relations in the Jacksonian Era, 1815-1845 (Praeger Security International, 2009).
The Oral History Review, published by the Oral History Association, is the U.S. journal of record for the theory and practice of oral history. Its primary mission is to explore the nature and significance of oral history and advance understanding of the field among scholars, educators, practitioners, and the general public. Follow them on Twitter at @oralhistreview, like them on Facebook, add them to your circles on Google Plus, follow them on Tumblr, listen to them on Soundcloud, or follow the latest OUPblog posts via email or RSS to preview, learn, connect, discover, and study oral history.
Subscribe to the OUPblog via email or RSS.
Subscribe to only history articles on the OUPblog via email or RSS.
Image Credit: Image courtesy of Dr. Robert P. Wettemann Jr.