Posted on Thursday, October 5th, 2006 at 4:30 pm
Each month, the editors of the Oxford African American Studies Center provide insights into black history and culture, showing ways in which the past and present interact by offering socially and historically relevant short articles, picture essays, and links that will guide the reader interested in knowing more.
Last month we highlighted women in literature and the month before we looked at the origins of Hip Hop. October, when millions of fans around the world are caught up in the excitement of Major League Baseball's World Series, is a perfect time to remember the Negro Leagues. This essay by Paul Finkelman provides a great introduction to the African American athletes who played our national pastime during the Jim Crow years. Check back each week this month to read more:
This month millions of baseball fans will watch the World Series. As I write this we don't yet know who will be in the fall classic. But one thing is certain: the players will be a rainbow coalition of athletes. We may see Japanese batters facing Latino pitchers; Korean pitchers trying to stare down white players; Latino catchers tagging out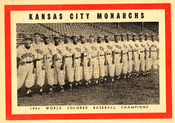 African American runners at homeplate. Major league baseball teams today field an ethnic hodgepodge of Jews, blacks, white Americans of all backgrounds, Asians, Latinos, Canadians, Europeans, and Australians, making this most American of games a mirror of the United States as a whole: a nation of immigrants and natives of all races, religions and backgrounds.
It wasn't always like this. Until Jackie Robinson appeared in Dodger blue in 1947 the fall classic mirrored a segregated America. Professional baseball for most Americans was white baseball. A light-skinned Latino might be accepted in the majors, as was the occasional Native American (Jim Thorpe or Chief Bender). But by and large the game with the little white ball was run by white men with closed minds and small imaginations who simply could not fathom the idea of a black player.
Before 1900 a few black players could be found in the major leagues. In 1878 John W. "Bud" Fowler joined an otherwise all-white team in New Castle, Pennsylvania. Facing discrimination and racism, Fowler used his wits as well as his skills to fight for equality. In fact, Fowler is credited with inventing shin guards to protect his legs from white players who continually tried to spike him. In 1883 Moses Fleetwood Walker, a graduate of Oberlin College, signed with Toledo Blue Stockings, and a year later when the Blue Stocking joined the new "American Association," Walker became the first African American in the major leagues. In 1886 Frank Grant joined the Buffalo team in the International League. But a year later the professional leagues banned the signing of any new black players. When Walker retired in 1889 major league baseball became a white man's sport.
While some black players struggled to break into the majors, most other black players teamed up with black entrepreneurs and developed their own leagues. In 1885 the black businessman Frank Johnson had organized the New York Cuban Giants, attempting to avoid discrimination by convincing white teams that the Cuban Giants were not really black. The ploy failed, but within a few years blacks had their own leagues. In 1887 the League of Colored Baseball Clubs formed with teams from Baltimore, Boston, Cincinnati, Louisville, New York, Norfolk (Virginia), Philadelphia, Pittsburgh, and Washington, D.C. A year later the New York Cuban Giants won the first ever Colored Championship of America.
Over the next seventy years the Negro Leagues would showcase African American players and thrill black sports fans. Some teams-like Bud Fowler's Page Fence Giants, organized in 1895-barnstormed across the nation, playing black and white local teams. In 1910 Chicago's American Giants, under the leadership of Rube Foster, won 123 games and lost only 6 while playing in a loosely organized Negro League. In 1920 Foster organized the Negro National League, including the Chicago American Giants and the Kansas City Monarchs. In 1923 the Eastern Colored League appeared, and in 1924 the Kansas City Monarchs beat the Philadelphia Hilldales in the first Black World Series. The Eastern League collapsed in 1928, but reemerged as the Negro American League in 1929. In 1931 Josh Gibson hit seventy-five home runs while playing for Pittsburgh's Homestead Grays, but at the end of the season the National Negro League went bankrupt. In 1933 a new National Negro League emerged. A year later Josh Gibson moved to the Pittsburgh Crawfords, helping form one of the greatest of the Negro League teams, one that included five future members of the Baseball Hall of Fame: "Cool "Papa" Bell, Satchel Paige, Oscar Charleston, Judy Johnson, and Gibson.
Today many of the Negro League players are enshrined in the National Baseball Hall of Fame in Cooperstown. Some, like Bell and Gibson, played their entire careers in the Negro Leagues. A few, like Satchel Paige, finished their careers in major league baseball after Jackie Robinson broke the color line. Most of the first black players in the majors-Robinson, Larry Doby, Roy Campanella, Hank Aaron, and Willie Mays-began in the Negro Leagues, but were young enough to play starting positions in the majors.
We recall the Negro Leagues with mixed emotions. The fact that the Negro Leagues existed at all reminds us of the racism of the Jim Crow era. How much more rich would baseball history be if the great stars of the Negro Leagues had played with their white peers. We can only imagine the drama of Satchel Paige pitching to Babe Ruth or Hank Greenberg; of Josh Gibson facing someone like Carl Hubbell. Nothing perhaps reveals the awful contradictions of racist segregation more than the fact that the same whites who proclaimed their superiority to blacks were afraid to face their "inferiors" on the ball field. On the other hand, the Negro Leagues remind us of the glory of great athletes refusing to bow to racism, playing despite white refusals to let them play, fighting discrimination by forming their own leagues in order to showcase their skills; we are also reminded of the black entrepreneurs who struggled to make baseball profitable in a segregated world. This fall, when we watch our favorite teams win and lose, we should take a moment to celebrate those great black athletes who never had a chance to wear that most precious piece of baseball jewelry: a World Series ring.
---
Want to read more? Check out
Cool Papa Bell
.